Big Sky, Big Retirement: Montana's Flathead Valley
Published on January 19, 2016
Many outdoorsy active adults over age 55 have set their sights on Montana—often named among the best places to retire by those in the know.
Montana isn't called Big Sky country for nothing; the state has plenty of elbow room. If you need wide open spaces to explore, rest assured nearby Glacier National Park will suffice with more than 1.3 million acres of wilderness beauty. If you get the urge to travel to other lands, simply cross over the Canadian border.
Popular Montana Retirement Areas

Resort towns Whitefish and Kalispell, 15 miles apart in northwest Montana's Flathead Valley, are especially popular with retirees. They offer rugged beauty and rustic charm, varied climate and mountainous terrain. The towns boast some of the greatest scenery in the world and unlimited recreational opportunities no matter the season: skiing, cycling, hiking, horseback riding, whitewater rafting, fishing or golfing are all there.
Whitefish's early beginnings as a railroad town are still evident in the fact that the Amtrak Station here is one of the line's busiest. Railroad buffs will be enchanted with the historic railroad depot and Central Avenue will appeal to those yearning for a peek at the Montana of long ago. The town's idyllic setting, just 20 miles from Glacier National Park, is capped off by the glistening waters of Whitefish Lake.
Kalispell is the retail, professional, medical, and governmental center of the Flathead Valley. It is also home to Wild Horse Island State Park, where wild horses roam amongst the old growth Ponderosa pine forest and wildlife (such as bighorn sheep, mule deer and bald eagles) traverse the remarkable trails. The landmark park is only accessible by boat, which is probably why the Salish-Kootenai Indians reportedly used it to pasture horses to prevent them from being stolen by other tribes.
Climate
The Flathead Valley enjoys a relatively mild climate given the northerly location of the state (although other parts of Montana have harsh winters). Summer days are warm with cool nights; humidity is low; and winter and spring are more akin to the Pacific Northwest. The valley is protected from harsh weather extremes by the high mountains to the east and west, and the lakes and rivers also moderate winter and summer temperatures.
Personal Well-Being
Outdoor recreation keeps residents in tip top shape. The Gallup-Heathway Well-Being Index ranks Montana in the Top 5 health states to live in—it has ranked in the Top 10 at least three times. In addition to exploring trails, the town of Whitefish is relatively walkable as compared to other communities.
Whitefish and Kalispell are pretty far away from big-city life. But, North Valley Hospital is a 44 acute bed, 56 long-term bed facility offering personalized health care and 24-hour emergency care is available.
Cost of Living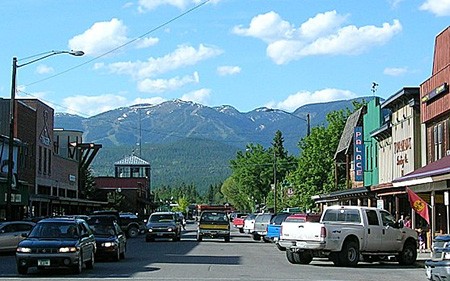 No matter where you live—in town, near the mountains or on a lake—almost all of the locales come with spectacular views of the mountains or lake. According to City data, the median sale price of a home was about $275,000. Montana household income at $44,222 is well below the national average. Real estate and the general cost of living is above average compared to the total U.S.
Montana does not exempt federal, state, or local pensions from state income tax, although there are some minor exemptions for people with lower incomes. There are no sales tax, inheritance or estate tax which may be attractive to many retirees. Residential properties receive a 34 percent exemption if it is filed for. The residences of some disabled residents and some spouses of deceased veterans are exempt from taxation. And, a homestead exemption in Montana protects up to $250,000 of the equity in a residential property.
Culture
The arts and culture are intensely vibrant and heartfelt in this geographic area. As can be expected, the local culture is built around nature and outdoor sports. Railroads also feature prominently in Whitefish, with many railroad artifacts, community memorabilia and photographs displayed at The Stumptown Museum. The Depot, located in the historic depot building, was restored to its original 1927 chalet-like appearance; and the Great Northern Locomotive #181, one of only seven of its kind ever built, is housed in the museum.
Kalispell is a vibrant artistic community. You can enjoy a Glacier Symphony concert, tour the Hockaday Museum of Art or browse the galleries downtown, visit the Conrad Mansion, or explore The Museum at Central School.
Big Mountain Ski Resort in Whitefish, which is among the 10 largest ski resorts in the U.S., hosts many events and festivals. Educational talks about the area's natural beauty are offered at The Environmental Education Center, which is located atop Big Mountain.
For retirees seeking open spaces, unspoiled land, plenty to do, and some Old West flavor, check out the northwest corner of Big Sky Country for some big opportunities.
Contact us for more information at (888) 857-8058 or Info@NextGenerationTrust.com.