Retirement Around The World – Switzerland
Published on June 28, 2016
Located in Western Europe, Switzerland is a diverse country famous for its exquisite snow-covered Alps, beautiful lakes, remarkable clocks and watches, first-class native cuisine, and mouthwatering chocolate!
Also known for their leisurely lifestyle, the Swiss place emphasis on recreation, sports and enjoying life. Since Switzerland is situated in the heart of Europe, one can easily travel to and enjoy the beauty and culture of many other countries.
Retirees will be happy to learn that Switzerland has a high standard of living, low crime rate, excellent health care and low taxes, making it a popular choice for expats.
Retirement for the Swiss
The Swiss pension system is built around three pillars:
The first pillar is AHV (Alters und Hinterversicherung), the state-run basic old-age insurance. This is financed by equal contributions from employers and employees (through salary deductions. Men over the standard retirement age of 65 and women over 64 may draw a pension if they have contributed to it for at least one year. Similar to the US Social Security system, those choosing early retirement will receive a reduced pension amount, with those retiring within any period up to five years after the standard retirement age receiving an increased amount.
The second pillar, Berufliche Vorsorge, is a mandatory, workplace-based occupational pension plan. This plan, together with the old-age insurance plan, enables the insured person to maintain his or her previous lifestyle. This pension plan is funded by employees and employers, with the sum of the employer's contributions at least matching the sum of the employee's contributions. It is open to the self-employed on a voluntary basis.
The third pillar is private pension insurance; it is optional and financed entirely by the individual. Contributions are deducted from taxable income and are only taxed at the time of payment. Interest on contributions is also exempt from taxation.  
Healthcare in Switzerland
Switzerland has an excellent standard of healthcare. Expats can select where they're treated and city physicians usually speak English. However, that quality care comes with monthly premiums, co-pays and deductibles. 
Health insurance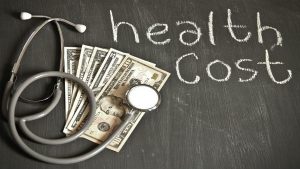 All Swiss residents are required to have health insurance coverage, and since it isn't government-funded or employer-sponsored, private insurance providers are not permitted to refuse anyone coverage. Private providers are required to cover most medical treatment and hospitalization costs in their basic health insurance packages.
Expats must obtain their own health insurance within three months of arriving in Switzerland, so it's important to research this in advance. Coverage for dental and supplemental costs (e.g., private rooms) require more comprehensive insurance policies. Insurance premiums vary greatly and are determined by geographic area, not by individual income.
Medical facilities
Both public and private health facilities in Switzerland have very high standards. At private hospitals the waiting times are usually shorter and some specialize in particular treatments. However, their costs are much higher and may only be covered by more comprehensive insurance policies. Basic health insurance covers most treatments at public hospitals, but patients may have to pay extra for certain special treatments.
Medications
American retirees shouldn't have difficulty getting most medicines in Switzerland. Pharmacies can order what they don't stock, or suggest appropriate alternatives. Emergency pharmacies are open around the clock.
Americans in Switzerland
US citizens traveling to Switzerland for up to 90 days do not need a tourist visa, as long as their passport is valid for at least six months.
Expats wishing to stay for more than three months must apply for a Swiss residence permit. Residence permits can be easily obtained by EU/EFTA nationals who have the financial resources, plus health and accident insurance. US citizens and other non-EU/EFTA nationals wishing to retire here can obtain a residence permit by investment, or by showing close ties with the country. They must also be over age 55, no longer seeking employment, and have the necessary financial resources, as well as health and accident insurance. Read here for more information.
Cost of Living
Switzerland is an expensive country for foreign retirees but most expats agree that the high living standards, excellent infrastructure and efficient public services are worth it. Costs vary from city to city, with the larger cities being more expensive than some of the more rural areas.
Over 60% of people here rent property, causing an apartment shortage. Retirees should be aware that this competition has resulted in a steep rise in rental costs, with payment of a three-month deposit up front in many cases. The Swiss are required to use special garbage bags for trash collection that are priced according to their size, so households producing more waste will pay more. The good news is that recycling is free, so you can expect to live a greener life in Switzerland.
Renting & buying in Switzerland
Switzerland offers a variety of living options, from traditional chalets with views of the Alps to sandstone houses in Old Town Bern to condos in popular cosmopolitan cities. When looking for a property, it's a good idea to register with one or more local agents who may have access to properties before they're publicly advertised.
A one-bedroom apartment in the city centre averages approximately $1,604 per month, while the same apartment outside the city centre goes for about $1,248 a month. An in-town three-bedroom apartment rents for approximately $3,066 per month; the same apartment outside the city centre goes for about $2,380.
For those considering buying a home in Switzerland, the country's highly regulated market can make purchasing real estate harder. However, although homes tend to be expensive, Switzerland's housing cycle appears to be peaking. As a result, there is a slowdown in the rise of prices for single-family homes and owner-occupied apartments.
Home prices vary depending on location. The most expensive regions are concentrated in the Zurich area, around Lake Zug, Lake Lucerne and Lake Geneva, and in tourist destinations in the mountains. An apartment in Zurich's city centre costs approximately $1,650 per square foot; the same apartment outside the city centre costs around $989 per square foot. Bern is less expensive (around $870 per square foot and $596 per square foot respectively). Expect the purchase process in Switzerland to take at least three months and budget at least 5% of the sale for fees and charges.
Other living costs
As with other countries, the cost of living also varies from city to city. A three-course dinner for two in a mid-range restaurant averages around $104, while a combo meal at a fast food restaurant averages approximately $15 per person. At the market, you can buy a dozen eggs for $5.47 and a fresh loaf of white bread for $2.27. A movie ticket costs $18.67, and a fitness club membership for one adult runs approximately $100 per month.
Cities/Towns that Attract Expats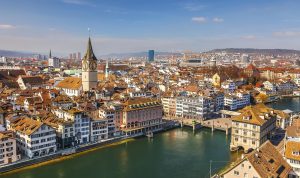 Zurich, Switzerland's largest city, is frequently considered the economic powerhouse of Switzerland. It is exciting, open to different cultures, and offers much to do, with over 100 art galleries, several renowned museums, and world-famous architecture. For those who enjoy outdoor activities, there's hiking through nearby Uetiberg, and swimming in Lake Zurich. Some other attractions are the Zurich Opera House, the Swiss National Museum and the Zoological Garden—one of Europe's top zoos.
Geneva is one of Switzerland's most multicultural cities. Due to the large number of diplomats and high-ranking politicians working here, its rich history and exquisite scenery, Geneva's cost of living is very high—as is the standard of living. Geneva is one of Europe's greenest cities and is often called the city of parks. Another advantage to living in Geneva is its international airport, motorways and railway system.
Bern, Switzerland's capital, is located in the heart of the country and is the gateway to the Alps. The city exudes a medieval air with its many fountains, sandstone facades, and historic towers.  For those who love shopping, Bern's four-mile, weather-protected promenade makes it possible to shop comfortably in any weather. The boutiques, bars and cabaret stages, and small street cafes attract locals as well as many tourists. For art and history lovers, there's the Zentrum Paul Klee, the Einstein Museum, the History Museum, Art Museum, Swiss Alpine Museum, and Communication Museum.  
Basel, in northwest Switzerland, is Switzerland's oldest university city. Shopping districts, museums and heritage sites are connected by small winding backstreets. A European cultural center, Basel is also home to the symphony and chamber orchestras, and the musical theater featuring international productions. One can enjoy picturesque views over the River Rhine and the region's charming, scenic countryside with its blossoming cherry trees is also a must-see.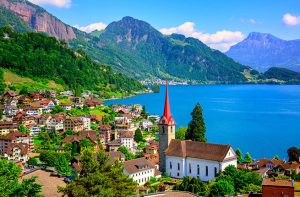 Lugano, in the southernmost part, is the largest town in the holiday region of Ticino. An hour from Milan by train, it is often considered the capital of Italian-speaking Switzerland, with Italian influences reflected in its architecture and food. Lugano is Switzerland's third most important financial center, but is also home to numerous parks, villas and sacred buildings. Lugano's traffic-free historic town center, exclusive museums, surrounding mountains and lake make it very attractive to tourists and prospective residents. It is also a place of extreme weather changes year 'round.
With its scenic Alpine mountains and lakes, charming villages, artistic multicultural cities, superior infrastructure, low taxes and excellent healthcare, Switzerland offers expats one of the highest quality lifestyles in the world!


Back to Blog