Retirement Around The World – Wyoming
Published on November 4, 2015
Beautiful Wyoming
Welcome to Wyoming, "The Cowboy State," where you can experience the essence of the American West and enjoy an excellent quality of life. Here you can escape the pressures of the large cities and enjoy serenity, low crime rates, quality healthcare, and the lowest tax rate in the country.
Wyoming's lifestyle is enhanced by clean air and water, some of the country's most beautiful natural surroundings, and abundant outdoor recreational activities such as hiking, fly-fishing, horseback riding, canoeing, kayaking, skiing, parasailing, hang gliding and stargazing in the Red Desert.
Healthcare
Retirees will be happy to learn that a Bankrate survey* lists Wyoming as the top state to retire in, with excellent healthcare as a prime criterion.
*Source: AARP and Money Magazine 2015
Among some of the state's top hospitals are: (1) Wyoming Medical Center, centrally located in Casper. It offers world-class heart and vascular services, neurology and neurosurgery services, and infectious disease services; (2) Cheyenne Regional Medical Center, a general medical and surgical hospital with three campuses, which received a high performance rating from U.S. News and World Report for its treatment of heart failure conditions; and (3) St. John's Medical Center, a general medical and surgical hospital in Jackson, which rated highly in patient satisfaction (above the national average for overall hospital experience), in a quarterly patient survey conducted by the Centers for Medicare and Medicaid.
Wyoming also has its share of family health and urgent care walk-in clinics, and Community Health Center of Central Wyoming (CHC) operates a state-of-the-art, comprehensive healthcare facility in Casper, with all of CHC's outpatient services and providers under one roof. Learn more about healthcare facilities in Wyoming at https://www.health.wyo.gov/ohls/FacilitiesDirectory.html.
Cost of Living
Wyoming offers a high standard of living and an affordable lifestyle for retirees. It has the lowest effective tax rate in the country at 6.9%, no state income tax, and sales tax is only 4%. The cost of living here is slightly lower than the US average, largely due to the availability of land and relatively low housing costs compared to more populated areas of the country.
The median home price in Wyoming is approximately $204,000 but this differs across regions, with prices in Cheyenne and Laramie being more expensive than other places in Wyoming ($190,000 and $210,000 respectively).
Rental prices are also comparatively reasonable. A two-bedroom home in Cheyenne rents for approximately $870 per month, while a similar home in Laramie goes for about $690.
Food and Entertainment
As with anywhere in the US, the cost of living (beyond housing) in Wyoming varies from place to place. In a small city like Laramie, a three-course dinner for two in a mid-range restaurant averages around $42.50. It costs about the same in Cheyenne but a meal in an inexpensive restaurant there costs approximately $11.50 per person compared to about $7.00 per person in Laramie. A combo meal in Cheyenne is also more expensive at approximately $7.90 a person in contrast to about $6.00 a person in Laramie.
At the market in Laramie you can buy a dozen eggs for around $1.59 and a fresh loaf of white bread (1 lb.) for approximately $2.26. In Cheyenne these will cost you about $2.50 for the eggs and around $3.56 for the bread. In Laramie, a movie ticket runs between $5.50 and $8.50, while in Cheyenne it can cost as much as $12.50.
Cities/Towns That Attract Retirees
Whether you're moving to Wyoming for its beautiful natural surroundings, its historical heritage or its cutting-edge energy sector, you'll have plenty of cities to choose from when deciding where to live.
Cheyenne, the state capital, is its largest city and lies on the southeast border of the state. As one of the windiest cities in the US, Cheyenne generates green energy with its many wind turbines. It's also a bustling cultural city whose attractions include the Symphony, the Wyoming State Museum, the Wyoming Transportation Museum and events such as art exhibitions and the Cheyenne Frontier Days, a 10-day event in July that features the country's largest outdoor rodeo.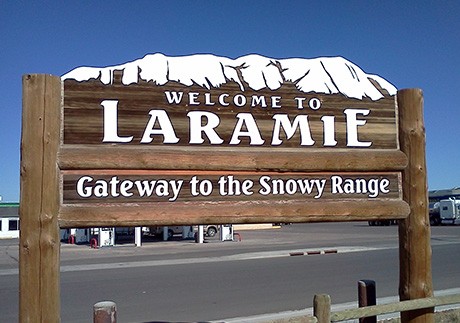 Laramie, located west of Cheyenne, is a small laid-back college town of approximately 31,000 people. The University of Wyoming is the largest employer and draws many students and faculty to live there. Retirees will like its 14 parks, a seasonally stocked fishing pond, and extensive Community Recreation Center with pools, fitness and cardio equipment and classes. For extra-energetic retirees, try the Poker Run ski race in February and the Wyoming Marathon on Memorial Day weekend.
Casper, located in the center of Wyoming, is the state's second largest city. Locally known as "Wyoming's Adventure City," it offers fishing in the historic North Platte River and hiking, biking, snowmobiling, skiing, camping, and picnicking at Casper Mountain. Casper also has many museums, historical sites and cultural events courtesy of The Wyoming Symphony Orchestra, Stage III Theatre and "The Best of Broadway Series" at the Casper Events Center.
Jackson, in the Jackson Hole Valley, is the main gateway for tourists to Yellowstone National Park, the Grand Teton National Park, the National Elk Refuge, and many famous ski resorts. Everyone can also enjoy the arts here thanks to the National Museum of Wildlife Art, the Center for the Arts and the Grand Teton Music Festival. The vibrant downtown area has a variety of shops, galleries, restaurants and nightclubs.
Green River, a small city of about 13,000 residents, was originally a Pony Express station along the Overland Trail. Today it's a family-friendly city with good educational and health services, and an economy that depends on natural resource mining/extraction. For entertainment, check out the Flamingo Gorge National recreational area and the Flamingo Gorge Days in June with its bull-riding competition, golf tournament, arts in the park and concerts.
With its beautiful wide open spaces, storied frontier past, affordable lifestyle, numerous activities and cutting-edge energy technologies, Wyoming can be a truly unique and amazing experience for retirees!
Unlock the Secrets of Self-Directed IRAs. Download our free whitepaper NOW