You Don't Have to Be a Celebrity to Retire to Palm Springs
Published on December 16, 2015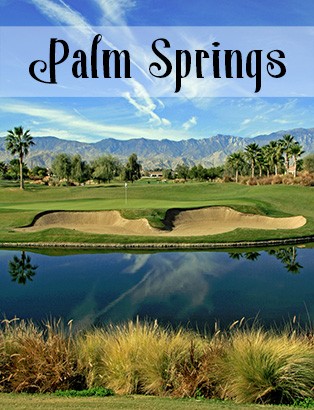 For high-net-worth retirees looking for fun and lots of sun, look to Palm Springs, California.
When you think of Palm Springs, you can't help but reflect on the Golden Days of Hollywood. The town is where Hollywood stars like Dean Martin and Dinah Shore went to escape the crowds and Elvis and Priscilla Presley honeymooned. Although those days are long gone, Palm Springs hasn't lost its cool. It's still a hip, happening locale and a great place to retire.
This sun-washed desert city, 90 miles southeast of Los Angeles in the Coachella Valley, is surrounded by the St. Jacinto Mountains. It offers a wide range of housing options for older adults who are seeking 350 days of sunshine. There is shopping, recreation and an extensive medical infrastructure.
In spite of its celebrity-laden past, Palm Springs is probably best known nowadays for hosting Coachella. This music and arts festival, which draws attendees from across the United States, showcases popular and established musical artists as well as emerging artists and reunited groups.
Tourists are a driving force behind the Palm Springs economy, along with retirees and the medical establishment.
Fun and Cultural Stuff
Whether you are looking to do it all or simply want to unwind, Palm Springs is the place. Retirees can get into the swing of things at local events such as the Palm Springs International Film Festival and Modernism Week—a 10-day affair celebrating all things midcentury—can keep you entertained. Cultural opportunities abound with performances presented by the Coachella Valley Repertory and Palm Springs Opera Guild of the Desert. And, La Quinta Arts Foundation hosts the #1 La Quinta Arts Festival in the nation.
For those who would rather swing a golf club, there are plenty of championship golf courses where golfers and novices can get in a few rounds. In fact, one of Palm Springs' most impressive golf courses is found at the stunning Trilogy at La Quinta active adult community.
Retirees who want to while away the afternoon can visit one of many cultural attractions such as the Palm Springs Air Museum, Palm Springs Art Museum and Desert Museum. If you want to hike the trails in San Jacinto Mountain or just stroll through a range of upscale El Paseo boutiques and shopping malls, Palm Springs has got it. For those who would rather spend time at a relaxing resort or full-service spa, you have your pick of many top-rated spas.
Personal Well-Being
Palm Springs has abundant open space and a friendly, small-town vibe. It offers a classic southern California desert climate—hot, sunny days that turn into cool, clear nights. Daytime temperatures in the summer can frequently reach 100 degrees with relatively mild winter days in the low 70s. The climate and dry air can be a relief for those who suffer from allergies and asthma. And, if needed, nearby Eisenhower Medical Center offers world-class medical facilities. There are also the Desert Regional Medical Center and John F Kennedy Memorial Hospital.
Cost of Living
Palm Springs caters to the affluent retiree looking to retire in style. Overall, the cost of living in Palm Springs is about 23 percent higher than the nationwide average as noted by BestPlaces.net but the quality of life is high as well.
According to CityRating.com, the average yearly pay in Palm Springs is slightly lower at $39,500 than the national average. And, the consumer price index (CPI) of 249 in California is higher than the U.S. city average CPI of 232.95. Great Places to Retire reports that the average home prices are about $365,000 (about 66 percent of the home price in Los Angeles) and monthly rent is $1,629.
There are many active adult retirement communities in the area, with housing options ranging from the relatively moderate to luxury (priced from the $200,000s to the $800,000s, with some over the one-million-dollar mark). If you're thinking of retiring in the area, it's a good idea to take an extended vacation there to shop around for the right community and the right town. Rancho Mirage, Indian Wells, Palm Desert, and Desert Hot Springs may offer housing opportunities that fit your budget if Palm Springs is out of reach.
To ensure that your retirement dreams are all golden, start thinking about how you will fund all those days in the California sun. If a self-directed retirement plan is the golden opportunity for your future, the experts at Next Generation Trust Services are here to help—even when you move to Palm Springs! Contact us for more information at (888) 857-8058 or Info@NextGenerationTrust.com.