FREE WEBINAR March 14th: Learn How to Invest in Oil or Gas Using Your Self-Directed IRA
Published on February 22, 2016
Thinking of Making Oil or Gas Investments Through Your Self-Directed IRA? This webinar's for you!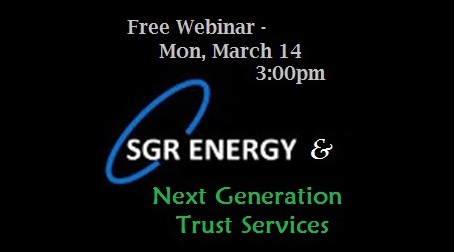 Join us on Monday, March 14 at 3:00 p.m. (Eastern) for a joint webinar with SGR Energy. Tom San Miguel, president/CEO of SGR Energy will co-present this informative, free webinar with Next Generation Trust Services' business development representative Karen Augis.
Register at: https://attendee.gotowebinar.com/register/629248678222169347
Tom's presentation covers a breadth of information about investing in these commodities in an unpredictable market with "How to Take the Volatility Out of Oil and Gas Investments While Getting Solid Returns With Lower Risk Levels." Karen will cover "Self-Directed Retirement Plans 101" and talk about the many alternative assets allowed within these plans (including oil and gas futures).
SGR Energy is a rapidly growing fuel blending and manufacturing company that has developed a proprietary blending technology platform to cost-effectively incorporate cleaner burning fuel oils and blendstocks for commercial and industrial burning.
Register at https://attendee.gotowebinar.com/register/629248678222169347
We'll send you a confirmation email with all the information about joining the webinar.