Millennial Business Owners are Fans of Retirement Plans
Here's something that may surprise you: younger business owners of the millennial generation are putting their employees' retirement on their radar more so than their older counterparts (Generation X and baby boomers). According to a Nationwide survey, millennials are more aware of the importance of a workplace retirement plan and are nearly twice as likely as the average business owner to say they will offer retirement benefits to their employees in the future (69 percent vs. 36 percent).
Having grown up during the Great Recession, this generation has seen firsthand the importance of planning ahead financially. In addition to their own spending, money management, and retirement savings, they are thinking of their employees' financial futures as well. The survey revealed that:
Fifty-seven percent of millennial business owners think it's their responsibility to help their workers save for retirement, compared to 44 percent of Gen X and 31 percent of baby boomer bosses.
Fifty-one percent of millennials said a retirement plan is a good recruiting tool in a tight job market, to help attract and retain talent.
Thirty-two percent of millennial bosses are increasing retirement contributions which is nearly double the overall figure (18% of all business owners).

Self-directed retirement plans for employees and employers
Did you know that as a business owner, you can offer a SIMPLE IRA that your employees can self-direct? Or as a self-employed person, you can self-direct a SEP IRA?
A SIMPLE IRA retirement plan can be established by employers, including self-employed individuals (sole proprietorships and partnerships) for the benefit of their employees. Eligible employees can contribute part of their pretax compensation to the plan. For individuals who are savvy about nontraditional investments, they can include those in their self-directed SIMPLE IRA. As you know, self-directed IRAs allow investors to include a wide range of non-publicly traded alternative assets, such as real estate, precious metals, lending and private equity.
If you are a business owner and would like to offer a SIMPLE IRA to your employees, or open a SEP IRA for yourself—or as an individual, you wish to open a self-directed IRA and build a more diverse retirement portfolio—Next Generation's team can help you get started. Contact us at NewAccounts@NextGenerationTrust.com or 1.888.857.8058 today!
What is a SEP IRA ?
Source: IRS.gov
A SEP is a simplified employee pension plan. A SEP plan provides employers with a simplified method to make contributions toward their employees' retirement and, if self-employed, their own retirement. Contributions are made directly to an Individual Retirement Account or Annuity (IRA) set up for each employee (a SEP-IRA). See Publication 560 for detailed SEP information for employers and employees.
Note: The IRS has a system of correction programs for sponsors of retirement plans, including SEPs, which are intended to satisfy Internal Revenue Code requirements but have not met the requirements for a period of time. This system, the Employee Plans Compliance Resolution System (EPCRS), permits employers to correct plan failures and thereby continue to provide their employees with retirement benefits on a tax-favored basis.
How is a SEP established?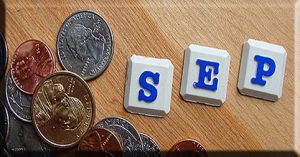 A SEP is established by adopting a SEP agreement and having eligible employees establish SEP-IRAs. There are three basic steps in setting up a SEP, all of which must be satisfied.
A formal written agreement must be executed. This written agreement may be satisfied by adopting an Internal Revenue Service (IRS) model SEP using Form 5305-SEP, Simplified Employee Pension – Individual Retirement Accounts Contribution Agreement. A prototype SEP that was approved by the IRS may also be used. Approved prototype SEPs are offered by banks, insurance companies, and other qualified financial institutions. Finally, an individually designed SEP may be adopted.
Each eligible employee must be given certain information about the SEP. If the SEP was established using the Form 5305-SEP, the information must include a copy of the Form 5305-SEP, its instructions, and the other information listed in the Form 5305-SEP instructions. If a prototype SEP or individually designed SEP was used, similar information must be provided.
A SEP-IRA must be set up for each eligible employee. SEP-IRAs can be set up with banks, insurance companies, or other qualified financial institutions. The SEP-IRA is owned and controlled by the employee and the employer sends the SEP contributions to the financial institution where the SEP-IRA is maintained.