Brittany Pickell of Next Generation is Featured Guest on Target Market Insights Podcast
Published on June 3, 2019
[et_pb_image admin_label="Image Marketing Director Brittany Pickell" _builder_version="3.23.3″ src="https://www.nextgenerationtrust.com/wp-content/uploads/2018/08/Brittany-Pickell.png" box_shadow_horizontal_tablet="0px" box_shadow_vertical_tablet="0px" box_shadow_blur_tablet="40px" box_shadow_spread_tablet="0px" z_index_tablet="500″ /]
Marketing Director for Self-Directed Retirement Plan Specialist Shares Insights into Real Estate Investing through this Strategy
ROSELAND, NJ, May 31, 2019 /24-7PressRelease/ — Brittany Pickell, Director of Marketing and Sales for Next Generation, which specializes in self-directed retirement plans, was a featured guest in a recent episode of Casmon Capital Group's real estate podcast, Target Market Insights. Pickell shared information for real estate investors about self-directed retirement plans and ways investors anywhere in the U.S. can include real estate investments in these plans.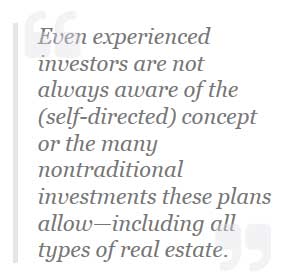 "Since Casmon Capital Group specializes in optimizing apartment community investments, the Target Market Insights podcast typically provides insight on specific geographical and emerging markets for real estate investors; however, we wanted to bring a different perspective to listeners with a topic that applies to all markets," said Pickell. Her episode, titled "What You Need to Know About Self-Directed Retirement Accounts" is available here.
"Although self-directed IRAs have been around for decades, we find that even experienced investors are not always aware of the concept or the many nontraditional investments these plans allow—including all types of real estate, which is the largest asset class typically held in these plans," she added.
Real estate investments that can be included in a self-directed IRA include mixed-use properties, residential or commercial properties, rehabs, farm land, raw land, and industrial or warehouse properties.
What was once an exclusive investment vehicle for the very wealthy, self-directed retirement plans are now attainable by a wider pool of savvy investors who know and understand certain alternative assets, are comfortable making their own investment decisions and want to diversify their retirement portfolios.
"Including nontraditional investments in their retirement plans enable investors to hedge against stock market volatility in more creative ways," noted Pickell.
In the podcast, Pickell explained the best practices when using a retirement account to buy and sell investment real estate, talked about the similarities and differences between self-directed IRAs and typical plans from brokerages and banks, and discussed how Health Savings Accounts (HSAs) and Coverdell Education Savings Accounts (ESAs) can also be self-directed. Next Generation Trust Company provides custodial services for its clients' self-directed accounts and its sister firm, Next Generation Services, provides full account administration and transaction support.
Pickell speaks at many conferences and meetings and conducts educational webinars with other firms. Next Generation's goal during these events is to educate investors and financial professionals on self-direction as a retirement strategy and the many options available through self-direction. Last spring, Pickell appeared twice on the financial services video platform, Asset TV, to talk about women and investing and to provide an overview of self-directed retirement plans.
More information about self-directed retirement plans and Next Generation is available at www.NextGenerationTrust.com.
About Next Generation Trust Company
Founded on the philosophy that every person should have control over their own retirement plans, Next Generation Trust Company educates consumers and professionals about self-directed retirement plans and nontraditional investments, a strategy at one time reserved only for the very wealthy. Next Generation Trust Company, a custodian of self-directed retirement plans, is a trust company chartered in South Dakota. Its sister firm, Next Generation Services provides comprehensive account administration and transaction support with Next Generation Trust Company acting as custodian for all accounts. The neutral third-party professionals at Next Generation Trust Company expertly guide clients and their trusted advisors as part of their white glove, personalized service for a seamless transaction experience from start to finish. For more information on self-directing a retirement plan, visit www.NextGenerationTrust.com, call toll free 1.888.857.8058 or e-mail NewAccounts@NextGenerationTrust.com.
DISCLAIMER: Next Generation Trust Company ("NGTC") / Next Generation Services ("NGS") does not review the merits or legitimacy of any investment. NGTC / NGS does not endorse or recommend any companies, products, services or investments. NGTC / NGS does not provide any financial, legal or investment advice.If the services of NGTC / NGS were recommended by any third party, such persons or entities are not in any way affiliated with NGTC / NGS. All information provided is for educational purposes only. All parties are encouraged to consult with their professional advisors prior to making any investments.
About Casmon Capital Group
Casmon Capital Group is a real estate investment firm focusing on apartment communities with value-add opportunities. It seeks out structurally solid, underperforming properties in proven markets, then implements a plan to optimize operations and increase cash flow. Its offerings are designed to outperform traditional investment vehicles and create alternative, turnkey solutions for qualified individuals. It is headed by co-founder John Casmon. More information is at www.casmoncapital.com.
# # #
Published: https://www.24-7pressrelease.com/press-release/463214/brittany-pickell-of-next-generation-is-featured-guest-on-target-market-insights-podcast